Chief Engineer Raimondo Nicita
Carnival Dream Mediterranean Cruise, Oct 22, 2009 - Messina
Day 08 Thu Oct 22, Messina, Sicily, Italy, 7:00am-5:00pm
Whatever Raimondo says! - that was the plan...
But it wasn't meant to be...
I was looking forward to meeting Elizabeth's friend, but I guess God needed him. Raimondo Nicita passed away June 19th, 2009.
From Elizabeth:
Raimondo Nicita was from Catania, Sicily. He joined Carnival in 1972 as Staff Chief Engineer on the "Mardi Gras". In 1976 he was promoted to Chief Engineer. He was Construction Chief Engineer for the Holiday, Jubilee and Celebration. He was Chief Engineer on Holiday, Celebration, Fantasy, Ecstasy, Sensation, Inspiration and Imagination, that I remember. He is survived by his wife Nina, son Fabio and daughter Marzia. He was the true meaning of the word "Gentleman". He would do anything for you. He was a true friend, so caring of other people. He loved his family so much, and was very proud of them. He had a lemon tree farm in Sicily. He built a very beautiful house in Catania which overlooked Mount Etna on one side, and the beautiful sea on the other.
-----
From Bill:
I know that Raimondo was a true friend of Elizabeth's. It would have been an honor and a privilege for me to meet him and shake his hand and I'm sorry I won't get the chance. It was something I was looking forward to. Rest in Peace, Raimondo, and may God Bless - you more than earned it.
Courtesy of Carnival Cruise Lines: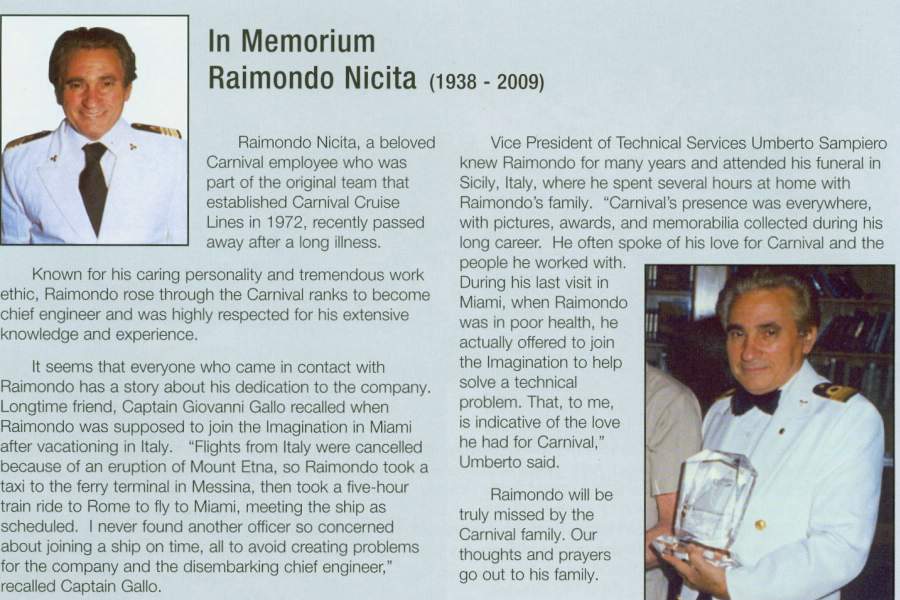 from the annual shareholders letter from Chairman and CEO of Carnival Corporation & plc Mr. Micky Arison.
"I would like to acknowledge Meshulam Zonis, who passed away last year. He was a long-time Carnival Cruise Lines executive who was part of the team that founded the company in 1972. He was an original member of the Carnival Corporation board of directors when we went public in 1987, and served on the board until 2003. His contributions to our company and industry were immeasurable. Two other beloved members of the Carnival family also passed away last year—Captain Carlo Chiarella and Chief Engineer Raimondo Nicita, both of whom were with the company from its inception in 1972. These three outstanding individuals each played a vital role in the creation, growth and success of our company and we are grateful for their dedicated service. They will be missed."
http://johnhealdsblog.com/2010/03/04/hair-today-gone-on-saturday/